According to a survey by GoodFirms, approximately 38 percent of web designers believe that outdated site design drives away visitors. If you've recently redesigned your legal website and are now facing a decrease in traffic, it might alarm you. Luckily, at Array Digital, we understand how a redesign can tank your traffic, and we can help.
Learn how to identify a traffic drop on your site, how to diagnose the root problem, and, most importantly, how to fix it.
How to identify an organic traffic drop on your website
What is going on? Why are there fewer people making it to your site than before? It's quite common to see an initial drop in rankings when you first have a law firm website update or redesign. That's Google's way of reevaluating your site, and until the search engines do so, you'll likely see traffic drop.
When you first redesign your legal website, organic traffic is expected to drop significantly for a period of a few days to a few weeks. However, as long as the site can be crawled by the search engines, healthy, organic traffic can rebound and then grow. However, an ineffective website, a website launched without a defined SEO strategy in place, or the presence of broken backlinks, among other factors, can impact a website's ability to rebound.
There are several factors to check to see if you're experiencing what could be called a standard drop or if the drop is due to a problem within the website. You certainly don't want to wait weeks to find out there was a problem with your new website, and that's why you're site isn't pulling in traffic.
Tools for evaluating your site traffic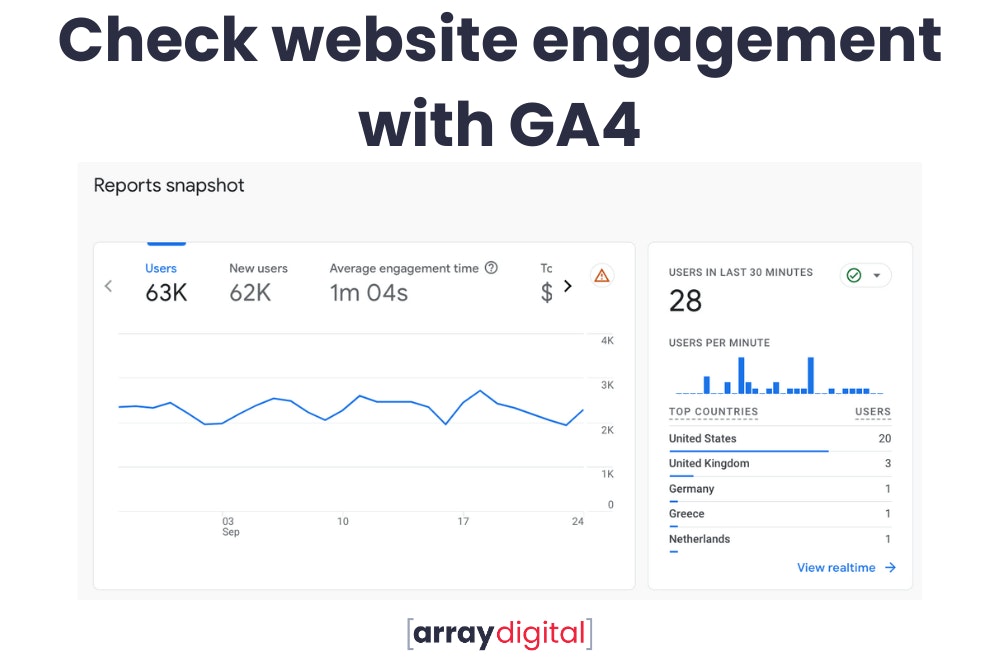 You'll find several of tools out there that aim to offer insight into organic website traffic. Google Analytics 4, or GA4, is a type of analytics service that allows you to measure the traffic to your website as well as engagement across all of your sites and apps. This tool gathers website and app data.
You also have access to Google Search Console, which allows you to use the Search Console Performance report as well as Google Trends. These give you better insight into what could have caused a drop in your traffic. It can also give you insight into how to fix them.
8 most common causes of traffic drops after a website redesign
Whether you are adding new pages or undergoing a completely new website design, there are many reasons why traffic loss happens. After a redesign of old pages and site architecture, there are several typical or common reasons for traffic drops.
Google sandbox
Google sandbox is a term you'll likely hear when researching these traffic drops. It describes the situation in which Google has yet to rank a website, and therefore, the website may not appear in the search results pages as expected.
Another way to look at it is that Google places websites in a "sandbox" for a bit before it reviews them and then ranks them in the search engines. The problem with this is that it just takes time, and there's no real way to get out of the sandbox instantly, which can last a few weeks to a few months.
You can improve your website as much as possible, though, to get the attention of the search engines, such as generating high-quality content, promoting the site, including title tags and meta descriptions, and incorporating more search optimization with targeted relevant keywords.
You also just need to give it some time, as frustrating as that can feel right now.
Redirect issues
In some situations, redirect issues can be the cause. A website redirection makes a web page available under more than one website address. When someone clicks on the link to open it, it will take them to a different link.
This can happen for various reasons, but when it occurs, it means your website pages are not indexed. That's because the search engine website crawlers entering them get redirected to another URL. As a result, Google will then rank the target URL instead of yours.
Site architecture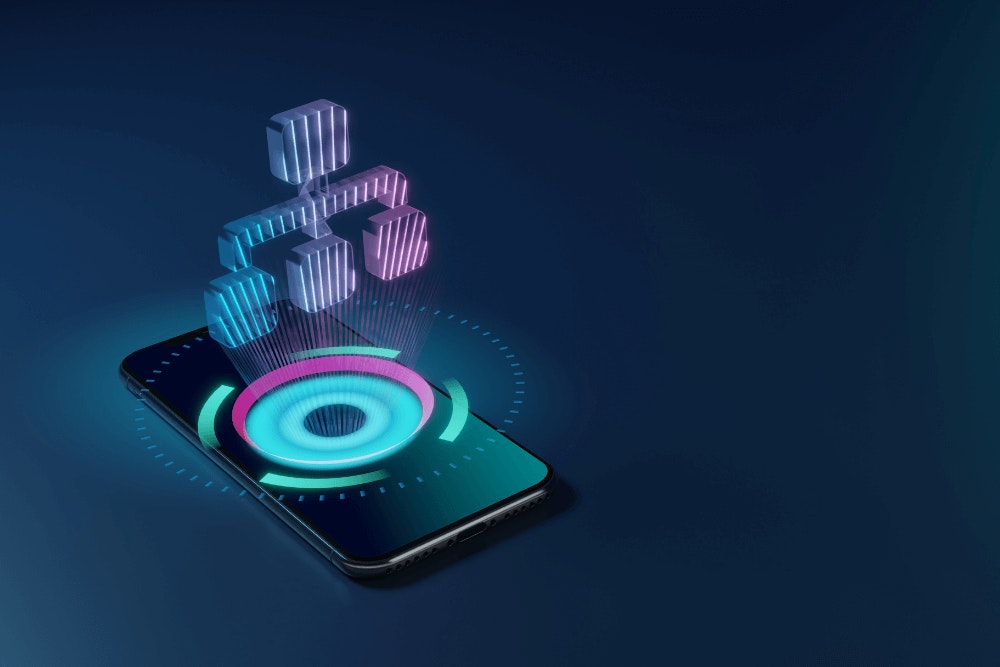 A change in your site architecture could also be a factor. A website's architecture helps to tell the search engines about the nature of the website, how to move through the site, and how to find all of the pages there. Having a solid site architecture for a law firm includes organizing your content hierarchically with a main topic for your homepage and then sub-topics, like practice areas as subpages.
Site content changes
Content changes will impact traffic as well. If your website already had good traffic, but you removed some or all of the content that's helped to initially attract visitors, you'll see a drop in traffic as a direct result. Ranking well for SEO comes from having high-quality content, and there are times when taking down the old and adding the new will be necessary. However, that could cause a dip in your website traffic.
For example, if you delete pages that were already ranking well in the Google algorithm, whether they are important pages or not, that is going to cause a loss of keywords. That means that Google sees other web pages as more valuable to the searcher than your web page at this point.
Be sure you have a strategy in place to help optimize for your target keywords before you actually launch into a full website redesign.
Indexing
Are some pages not indexed properly? It's hard to know what's occurring initially, but you can use Google's index checker, called the URL Inspection Tool, to help you see if this is happening. The search engine does not index pages, for example, blocked by a robot.txt rule or no-index tag. It also does not index pages that are duplicates of other pages on the website.
If you use this tool and find that there are some pages that are not being indexed that should be, you'll be able to direct your attention to those problems, and that may help to give you a boost in traffic.
Site performance
Is the website in good health? Technician issues are a common issue with a drop in traffic. For example, if your site is taking longer than a few seconds to load due to the new design, that's going to impact its organic performance. Long load times often result in people backing out of the site to find another option.
If you are adding new content to your website from an old website and mistakenly incorporate old URLs without proper redirects, that could make for a few broken links that limit your overall success.
Tracking code
You also need to be sure your Google Tag Manager or other tracking code is properly enabled. Do not duplicate it; if it is, that will skew your tracking, providing less-than-accurate metrics. This will also limit a search engine bot from crawling your site to index it.
How to determine the cause of your traffic drop after redesign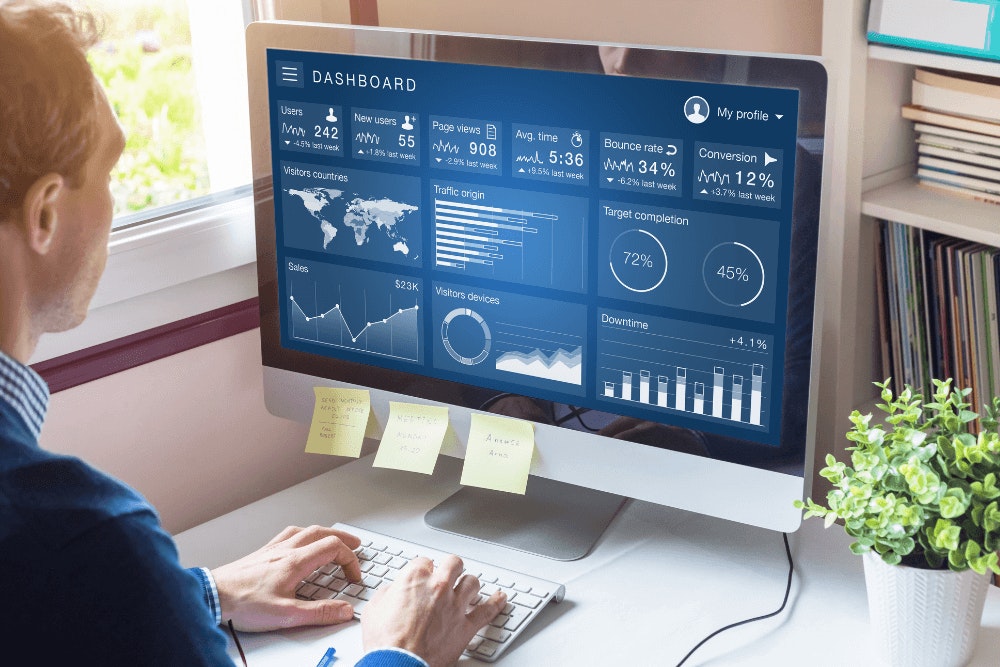 You can use a variety of tools to help you investigate your traffic drop and, ultimately, take steps to find a plausible solution. Then, you can continually update your current website to ensure it's operating at a higher level than your old site.
Screaming Frog
Screaming Frog is one of the best options for analyzing traffic changes. It can help with full site migration, but in this context, its powerhouse abilities come in the form of pinpointing potential site issues and improving efficiencies.
For example, once your new site launches, you can use it to:
Audit redirects on your site
Crawl a new website to ensure it is indexable
Check your analytics tracking
Screaming Frog provides access to complex and highly valuable data. However, it does not analyze that data, nor does it provide any specific strategies for improvement. At Array Digital, we use our industry expertise alongside tools like this throughout the redesign process to inform of key opportunities for improvement.
Google robot.txt Tester
With the robot.txt Tester, you can see whether the robots.txt file is blocking Google's website crawlers and, therefore, limiting your site's ranking.
You can use it to test the functionality of your new site to pinpoint any areas of concern. You submit the URL to the tool. It acts like a Googlebot to check your robots.txt file, and then verifies proper URL indexing.
Google PageSpeed Insights
The PageSpeed Insights tool gives you significant insight into the user experience, whether they are using a mobile device or a desktop device. It also will tell you what to improve. It assesses the quality of experiences the user gets, including distribution and selected metric values, core web vitals, and more.
Even if your site is at the top of the search engine results, if the user experience is poor, those keyword rankings are not going to help you with conversions.
Google Analytics 4
Google Analytics 4 provides data that can be used to better understand the changes occurring. That information could then be used to determine:
Was the traffic drop a sudden occurrence?
Was the drop a slow and steady decline over a period of a few weeks or months?
Whether the traffic is likely to return
For example, with GA4, it is possible to compare specific data on traffic from one month to the next. You can see, for example, what the traffic was six months ago or one month before the redesign of your old website compared to now. Using metrics like this, it is then possible to compare data to pinpoint potential challenges and opportunities.
How long will it take for my site traffic to return to normal?
This is the big question that many attorneys have, and it all depends. If there are no technical issues with your website, but perhaps your site was simply sandboxed, it will likely take several days to a couple of weeks to see recovery.
If there are technical issues, whether that is due to poor site structure/URL structure or crawl errors, that's going to take a bit longer to come around and see improvement simply because you need to make some backend updates first.
Tips for avoiding a traffic drop after your next website redesign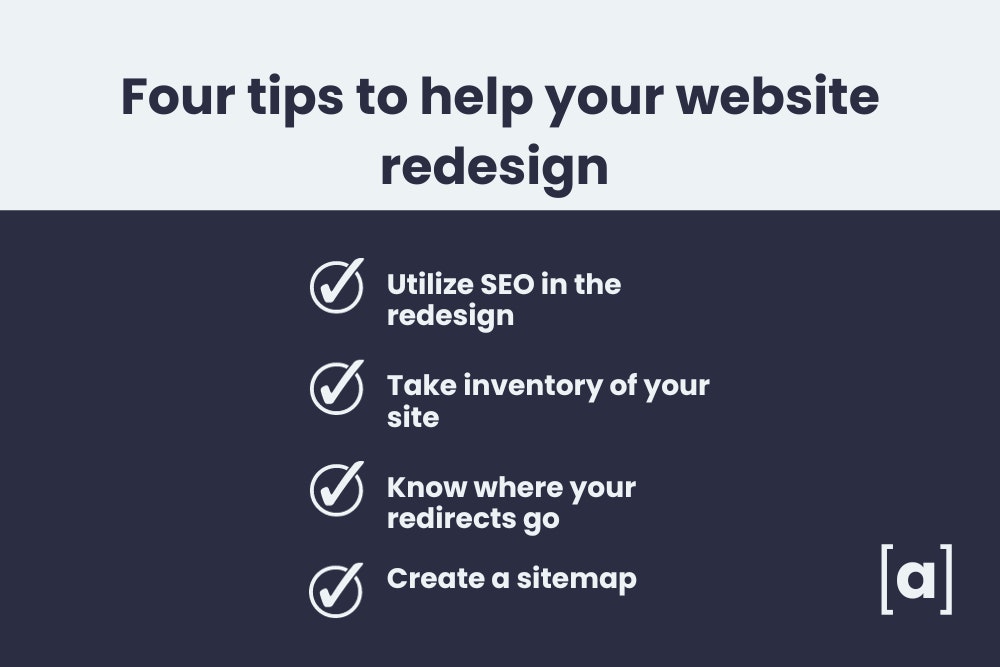 So, what can you do to avoid this drop? Consider these strategies.
1. Use SEO to guide your redesign
SEO is at the core of any digital marketing strategy today, but it should be the first consideration, not the last. Before moving forward with your redesign plan, be sure you've focused first on building an SEO-friendly site.
2. Inventory your old site before redesign
A drop in traffic indicates your old website was doing something well. By analyzing the old site, we can pinpoint what this was. This could include identifying valuable pages performing well and ensuring you don't lose the keywords you were ranking for or the backlinks contained within those pages. You also will want to look at the old site to determine where restructuring is most needed to improve outcomes.
3. 301 redirects
Pay close attention to redirects. Be sure permanent redirects to a new URL are in place. You also can get more insight into this by using your site inventory to ensure that you redirect every page necessary before you pull down and start fresh.
4. Make a sitemap
Finally, ensure you have a sitemap. This provides a clear understanding of all the pages that will be included in your site's redesign. The new sitemap should also help to prevent crawl errors.
How digital marketing experts can help
Site owners can quickly become overwhelmed when they notice a drop in traffic on a newly launched site. If the site doesn't begin to recover within several weeks, it's time to take a closer look and find out from your webmaster where the challenges exist. Or, the simpler solution is to let us help you avoid this problem from the start.
Digital marketing experts can help by handling the full website redesign and migration for you, making sure that a "file not found" and other critical issues are not what happens when your website launches. Professionals have the ability to avoid many of the most common problems while also providing you with a bit of peace of mind.
If there are any type of technical issues that can happen, even in the best of situations, the digital marketing team will diagnose what is occurring and address those concerns quickly, minimizing any downtime.
More so, they can monitor all site analytics and adjust as needed to compensate for any losses. That means that if a problem becomes evident, they can work to fix it immediately.
Fix your traffic freefall and ascend with Array Digital
Let's discuss your options. Reach out to Array Digital now at 757-333-3021 or fill out our contact form. Let's figure out what's really happening and how to fix your traffic drop.