Gone are the days when you pull out a phone book or start your research in the Yellow Pages. Google processes up to 8.5 billion searches per day, and forward-thinking law firms are taking advantage of organic search and the clientele it brings.
Having and maintaining an online presence is vital for your immigration law firm. Contact the experienced legal digital marketing team at Array Digital to begin your SEO journey. If you are interested in SEO and how it could benefit your immigration firm, keep reading.
Do you need SEO as an immigration law firm?


You absolutely need to be engaging in search engine optimization (SEO) for your immigration law firm. More and more searches for knowledge begin online. When you offer that knowledge, it guides a potential lead to your website instead of the competitor's site. Consider that an astounding 66 percent of call conversations for law firms come from organic search. That means out of every three leads you get, two of them could start from an organic search. However, there's stiff competition out there. Legal terms are becoming increasingly harder to rank for as more competitors utilize SEO to optimize their content and their website. The fact is, search engine optimization isn't a new service or tool. It's become the standard. Law firms that do not put the time and work into SEO are limiting their long-term success.
The sooner you start, the better your chances are of ranking for those competitive terms. But why does that matter, really?
Search engine optimization is a method of helping search engines like Google to understand better what your website and services have to offer their searchers. When your website incorporates the terms people use and ranks highly in searches, that can offer numerous benefits to your organization.
It helps people who need your immigration legal services to find you.
It builds brand awareness so people learn about your law firm.
It increases the chances of ranking on page one of the search engine results pages (SERPs) for competitive terms in your industry.
It helps you to build authority in the immigration legal field within your community.
SEO enables your immigration law practice to see more leads come in steadily.
Your practice receives more reviews, which further helps build your brand and client base.
How can immigration lawyers improve their SEO?
Building an SEO strategy that helps to bring in potential clients requires carefully understanding your local market, your target clients, and the current functionality and improvement opportunities in your immigration law firm website. There are several ways you can improve your SEO and help you to start seeing new clients if you already have a website with some basic structure.
Target local keywords
Your SEO strategy should focus at least somewhat on local SEO with the goal of helping people within your local community to find you. Many immigration attorneys pull from a locally based client pool, which means many of your potential clients are typing local searches for keywords like "immigration attorney in San Diego" into their search engine. When you build keywords related to your local community into the website, more people within your target area can land on your site and contact you.
Check on your Google Business Profile
Your Google Business Profile (which used to be called your Google My Business profile) is an excellent tool to boost your local search efforts. It's a type of business listing that Google allows you to claim for your firm. It should include your firm's name, practice area information, phone number, and a few search terms to help people learn about your services. Your profile will appear when someone enters keywords that fit your services in Google.
Optimization and user experience
Your immigration law firm website has to function properly to improve your position in Google searches. If your website loads slowly, the search engines cannot crawl and index it efficiently. That hurts your SEO campaign by reducing your ability to gain website traffic.
If your attorney website gets website traffic, but your phone lines are quiet, your conversion rates are low. That could be because of the functionality of your site. The people who land on your site must navigate it easily to get the information they want and contact you. Web pages must load fast so users don't become impatient and click away.
It's important to look at metrics to understand better what's causing your low conversion rates. For example, if you are using relevant keywords that are right for your target audience, and your landing pages are not converting, it may mean there's a concern with your call-to-actions (CTAs) or the overall layout of the site.
We can use a variety of tools, including Google Analytics, to update your digital marketing strategy and improve the function of your website so it's attracting, and not deterring, potential new clients.
What does incorporating SEO into your legal marketing strategy look like?
You need immigration clients. You provide exceptional services to your clients and work hard for them. So how do you get people to your site? What goes into an effective immigration law firm SEO marketing plan? As it turns out, quite a bit goes into it. When you turn to Array Digital, we will customize the SEO services we use to help ensure that you are getting just what you need to see results. Our marketing campaigns are always individualized, but there are some core things you can expect.
Local SEO
One of the ways our marketing agency can help you is to get you into the local pack. That's the set of law firms at the top of the first page of Google when someone types in keywords like "immigration law firm near me." You want to be in that grouping because it means potential clients see you first.
We want to ensure that when people are looking for an immigration attorney in your county, city, or target area, they see your firm.
Technical SEO
Another component of the process is updating your technical SEO. That includes things like meta descriptions, title tags, and other details that help Google crawl and index your site. We need to ensure all these aspects are optimized to draw in the search engines.
Off-page SEO
Off-page SEO is the use of strategies outside of your website that impacts your website traffic. One of the most important components of off-site SEO is backlinks. Backlinks are links on other websites that lead to your website. There are many ways to build backlinks for your site that improve your domain's reputation with Google's algorithm.
For example, attorney directories are like the Yellow Pages of the internet. They should list information and a link to your site. Your social media accounts should link to your site. If you provide case studies to journals or join your college's successful alum page, you can gain valuable links that can point to your site. Each link helps Google to see that your site is reputable.
On-page SEO
These are the digital marketing strategies we use on your site to make a difference in SEO results. That includes keyword research and building quality content for your website. This will help with organic traffic — getting people who need your services and are searching for them to your site.
Content marketing
Content marketing is also important in SEO results. Creating content people want to read helps build your authority and lets people better understand what you have to offer. Content marketing can refer to a wide range of strategies and formats.
Videos
Blogs
Social media marketing posts
eBooks
Podcasts (as a guest or a host)
The goal here is to build your law firm's reputation and brand while also helping your website to acquire keywords.
Immigrant attorneys should target locally
The more localized your immigration lawyer SEO efforts are, the better. The more local keywords you use throughout your site, the easier it is to rank for them. Local SEO targets "near me" searches so that locals needing an immigration lawyer are more likely to find your practice.
Take a look at the following chart. It shows you what it means to localize your SEO efforts. The last word on the list is an example of one that is too big of a range for treating. That's especially true if the law firm is not national or doesn't have a high domain authority. It's simply too costly to rank for that keyword.
Timelines for immigration attorney SEO
Search engine rankings are vital to any attorney today. Still, they are not a fast, simple solution. This form of legal marketing takes time and strategic planning to build.
Let's be frank here. If you need leads now for immigration clients, you may wish to turn to pay-per-click (PPC) efforts. Paid advertisement is the fastest strategy for getting a few leads in a short amount of time. However, it is a one-and-done investment with no long-term returns. You only get the benefit of those clicks while you are paying for the campaign.
Conversely, lawyer SEO is a long-term investment. With a solid website design, good content, and a strong legal marketing strategy built on core SEO principles, your website will begin to rank in the search engines and continue to create leads over time.
Quality SEO takes time. At Array Digital, we focus on keyword acquisition, which will come first for a smaller firm, and then keyword positioning, which is the true goal. Over time, you'll see long-term results that continue to pay for themselves repeatedly through new immigration clients.
Why immigration attorneys should hire an SEO agency
As an immigration agency, you likely are buried with work. You spend much of your time helping people in difficult situations, and that leaves very little time for you to focus on your SEO efforts. Recognizing that SEO is crucial to growing your practice is a good first step. From there, you need to let the professionals handle the next step.
From building your website marketing strategy to link building and joining the local map pack, Array Digital can do the hard work of search engine optimization for you. We can focus on what we do best, while you can focus on your practice and immigration clients.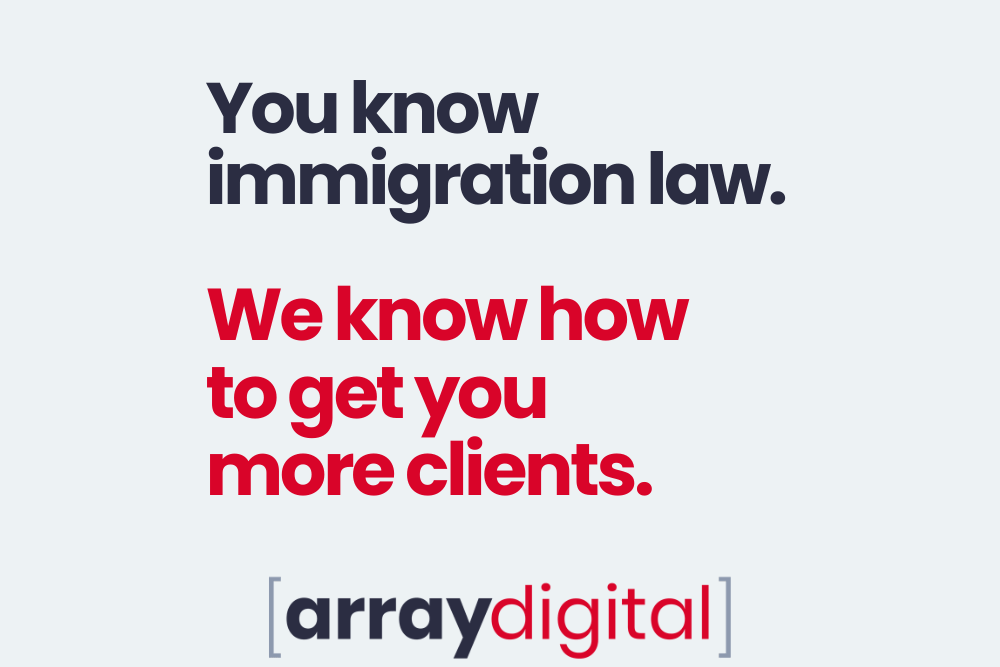 Reach your clients with more than one language
One of the services that Array Digital offers is helping you to create content that reaches your target audience. Often, that means having content on your site in more than one language.
Spanish content
At Array Digital, we offer Spanish content reviewed and translated by native Spanish speakers to ensure it is authentic and high in quality. We don't simply use Google Translate, which can provide inaccurate and confusing translations. This makes a big difference in our client's results.
Let us help with your SEO so your clients can find you and connect with your law firm for immigration services. Contact Array Digital for a free assessment today at 757-333-3021 or fill out our contact form to start the process. Let's get to work supporting your growth.