Keywords are important terms. They are exactly what your potential clients are entering into the search engines to find the personal injury lawyer, criminal defense lawyer, or a firm that can offer legal advice for a wide range of their needs. Choose keywords that help Google to know when to put your website in front of these potential clients.
Types of keywords
There are several key types of keywords that are valuable here. Each type is important and takes a bit of different research and development.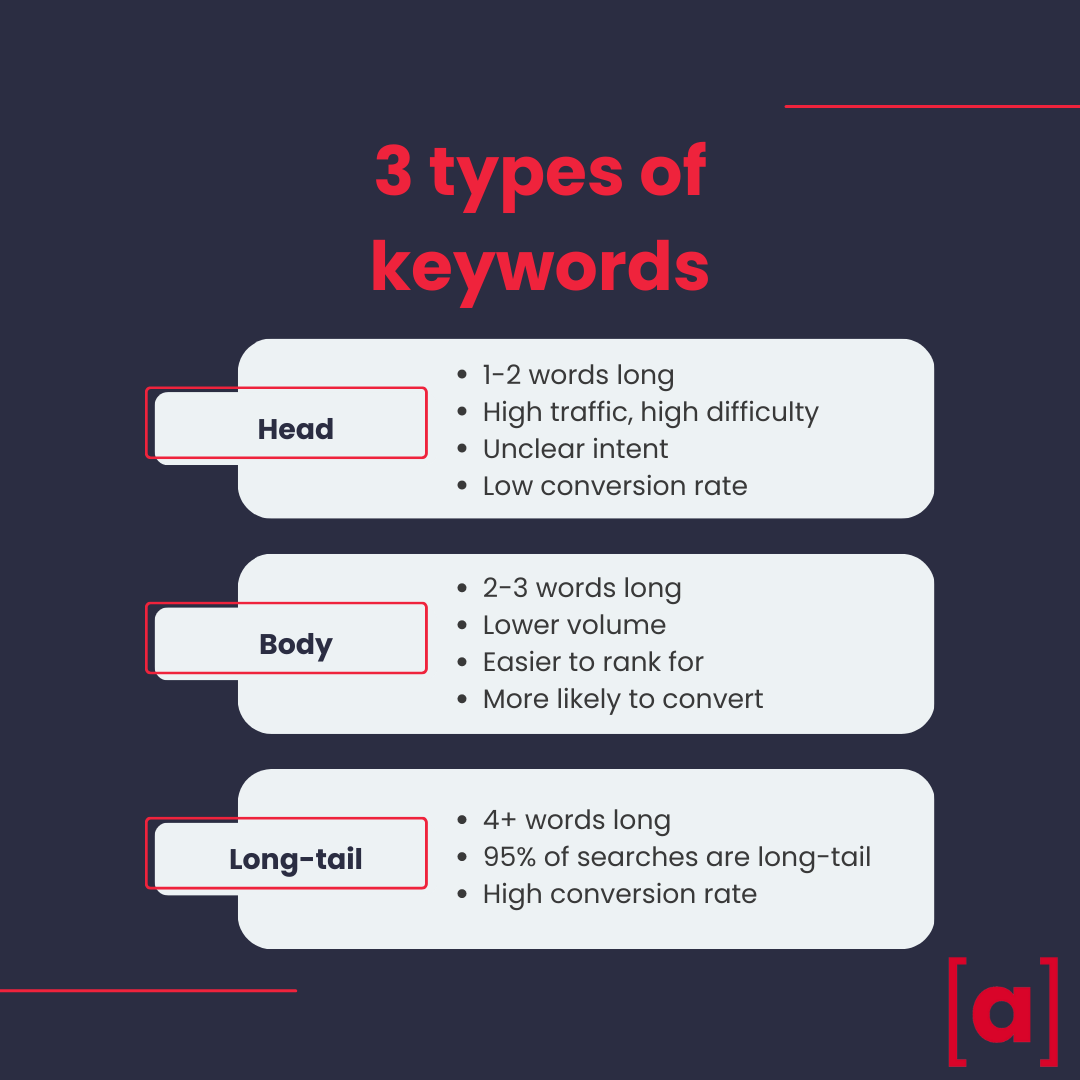 Head keywords
Head keywords are one to two words in length and tend to be high volume but also high difficulty. These are keywords like "lawyer" or "divorce."
In most situations, these are very difficult and inefficient to target for several reasons.
We don't know what the searcher's intent is. What are they really looking for? Do they seek legal advice, want to know what a lawyer does, or perhaps want to become an attorney?
Websites that rank for these words typically have very high domain authority. It is nearly impossible to rank for them yourself, especially if you have a small or mid-sized firm.
There's little chance your site will outrank websites like Wikipedia and Merriam-Webster for head keywords.
Body keywords
Body keywords are a bit longer, usually about two to three-word phrases. Some examples may include "personal injury attorney" or "DUI attorney in Charlotte." These are lower volume keywords, which means fewer attorneys are incorporating them into their law firm SEO plans.
That means they are easier to rank for and, as a result, more likely to convert to leads.
You'll also hear these called main keywords or primary keywords. That's because the website page that has these keywords is likely using it as the main focus of that page. They build content around that keyword. Most often, these keywords are also lower down the sales funnel, which means people are more likely to seek them out when they are ready to become a client. That makes them more likely to convert into leads for you.
Most of the time, attorneys will use their service areas as body keywords. They should always be specific to your law firm. Even for search engine optimization (SEO), there is no benefit to including keywords that don't represent your services properly.
Long-tail keywords
Typically four or more words in length, long-tail keywords are very specific. For example, a long-tail keyword may be, "Do pedestrians always have the right-of-way in Florida."
The majority of Google searches are related to these types of keywords. For example, someone may ask, "When should I hire a defense attorney in New York." They may be very specific questions, or they could be deep searches for information such as "criminal accident lawyer in Georgia with the best rating."
Targeting this type of keyword works well for law firms. Typically, your law firm's website will target a range of these keywords. The right keywords draw in the target audience you're after. About 95 percent of Google searches are over four words like these.
Understanding search intent
A core goal of digital marketing is bringing people to your law firm website because they want your service. To do that, we have to understand what the person behind the keyboard is actually thinking, needing, and wanting from the search. We call this search intent.
Information searches
Many times, a person searching for something is looking for very specific information. If they type in "PIP insurance laws in Michigan," they have a very specific goal. They need to understand the law for some reason, but they are not necessarily looking for a personal injury attorney.
Brand evaluation searches
Sometimes, the individual is searching for a specific law office. They may be typing in the name of the firm itself. These people are often performing a brand evaluation. They want to see what the law firm has to offer and if it is suitable for their needs.
Google offers search results that are relevant to that lawyer or law firm. This could include the law firm's website, profiles of the firm or attorneys on legal directories, and online reviews.
It's not difficult to rank for branded keywords like this that are relevant to you and your firm. A good starting place is to ensure your Google Business Profile is accurate and up to date. That's a component of local SEO that can be just as important to your marketing strategy.
To learn more about maximizing your Google Business Profile for lead acquisition, check out our local SEO Guide.
Transactional searches
A transactional search is one in which a person intends to purchase goods or services. These are people who are looking to purchase legal services from law practice. They may use search terms like "best personal injury lawyer North Carolina." The searcher here seems to be looking for a personal injury attorney.
These are some of the most important keywords for your law office. That is because they tend to have a high chance of conversion into new clients.