Organic traffic is an integral part of any law firm's SEO marketing strategy, but quite a few common mistakes can cause your firm's organic traffic to dwindle. A sudden drop in website traffic can be disheartening, and losing enough of it could have a serious impact on your bottom line. Fortunately, you can take advantage of solutions that can help your firm draw in organic traffic and keep clients coming. At Array Digital, we've compiled a handy list of some of the top reasons your site may be experiencing a traffic drop. Learn more about what to avoid to help optimize your website's performance.
1. Tracking errors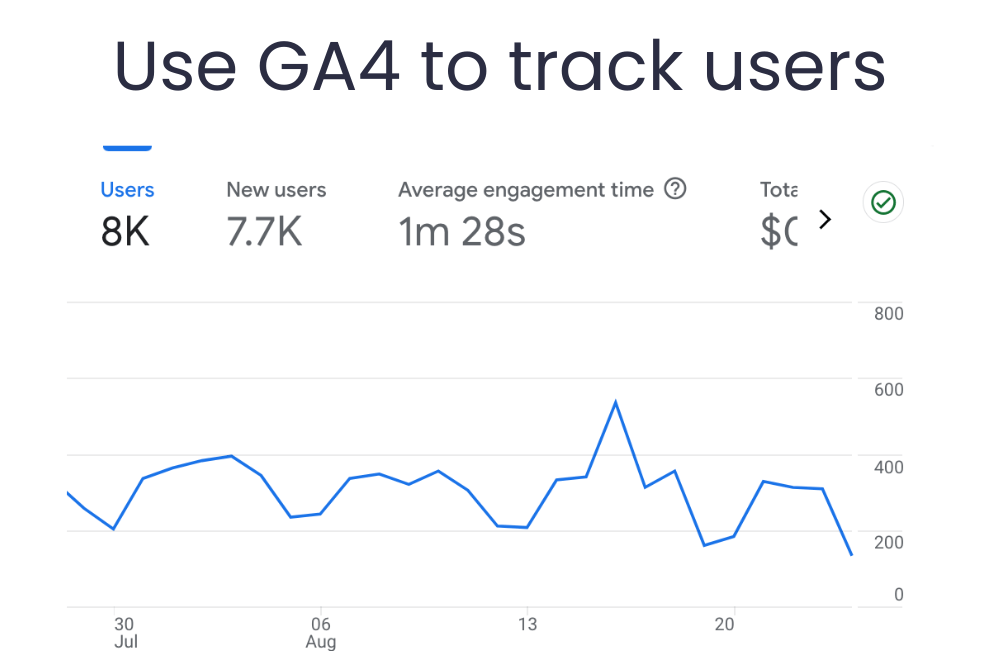 If you aren't properly tracking the number of visitors to your site, you may see traffic loss simply due to tracking errors. Fortunately, installing Google Analytics tracking code on your website is fairly simple and should prevent any tracking errors in the future. If you have a Google Analytics account and have already set up a property within Google Analytics, you can generate a tracking ID from your account. All you have to do then is copy that ID and paste it after the <head> tag on each page of your site that you're trying to track.
2. Site redesign and migration
While site redesign and migration may be an overall beneficial act, it can still turn a few pages suboptimal, and that can affect how much traffic you're getting. Every page on your website will need to be updated to ensure it links to the right places on the new site. Of course, the new design itself needs to be optimized to allow for easy navigation as well.
One of the most important tools when redesigning or migrating your site is a 301 redirect. Put simply, a 301 permanent redirect will automatically redirect any visitor to your new site. This includes actions taken by search engines, so a redirect can accurately guide users to your new site rather than have them met with your old site or a 404 (page not found) error.
3. Errors in robots.txt file
The robots.txt file can cause problems when it comes to allowing search engines to crawl your site. In most cases, these errors are completely accidental and occur after a migration. Fortunately, this problem has a simple fix. All you need to do is navigate to your robots.txt file and make sure that there is no disallow rule or noindex tag active in the sitemap code. Simply remove the rule, then resubmit your robots.txt file to Google's testing tool.
4. Broken pages and links
Broken pages and links cause a wide variety of problems that go far beyond simply being frustrating to visitors. They can incur penalties from search engines too. When a user reaches a broken page, tries to use a broken link, or has general technical issues, the likelihood of them simply giving up on your site skyrockets, and you lose that potential engagement. This higher bounce rate can have a significant impact on the overall amount of qualified organic traffic your site receives.
In addition to a frustrating user experience, you'll also see your rankings fall when you have broken pages and links. Search engines are long past the days when keyword stuffing was enough to get a high rankings. These days, they utilize many different factors for ranking, and one of the most important is the user experience or UX. When you have poor UX from broken pages and links, your site's rankings aren't going to be as high.
With too many broken links, the backlinks you've built up will disappear in addition to your internal links. This can decrease the website traffic you're receiving and also decrease your ranking on search engines. Another factor Google uses to rank results is authority, and one of the ways authority is established is through high-quality backlinks. Without proper backlinks, your ranking, and subsequently your organic traffic, will fall. This is why it's so important to focus on link building after a redesign or migration of your site.
5. Algorithm changes
Google's algorithm is not set in stone. In fact, it undergoes updates frequently, and Google isn't always entirely transparent about what those updates specifically mean for your rankings. Google updates its search algorithm in some capacity multiple times a year. Algorithm updates are designed to improve the quality of the results users get with search inquiries.
While the specific updates to the algorithm may be unclear, the goal is always the same. Google strives to provide users with relevant and useful results. If you're able to craft your site to be as helpful as possible to your target audience's common search queries, algorithm changes likely won't impact you quite as much.
6. Content issues
"Content is king" has been the motto for digital marketing for a while now. You need quality content to draw in website traffic, so content marketing and optimization should always be a priority. Keep in mind, however, that the mere existence of content is not good enough. You need to keep your content at a high quality. Quality is determined in Google's algorithm by the E-E-A-T standard, or experience, expertise, authoritativeness, and trustworthiness.
This core of Google's algorithm has been a part of its functionality for more than a decade now, and it's designed to ensure that the results people find will be useful based on their queries. By ensuring that your content is helpful, useful, valuable, and truthful, you can fulfill the requirements of the algorithm and put yourself in a good position for ranking high on search results.
Another common content issue is keyword cannibalization, which is essentially having multiple pages on your site that center around the same kind of keyword rather than focusing it on the best answer to users' queries. You can avoid this by pinpointing more specific keywords to use for different content pieces, even if they all are relevant to the singular topic's pillar page.
Evergreen content is always good to have, but it can't be the only kind of content on your site. In fact, some content that was once previously thought to be evergreen can become significantly outdated. Whatever the case may be, it's important to keep an eye out for underperforming pages in addition to creating new content. Low-quality pages need to be either updated or outright deleted. Don't hesitate to delete pages that no longer generate any organic traffic.
7. Lost rankings and SERP changes
SERPs (search engine results pages) are always going through changes as more and more law firms compete over similar keywords. You may have ranked highly at one time, but your ranking can be eclipsed by a competitor over time. That's why it's important to monitor your rankings and make adjustments when necessary. If a competitor is ranking higher, you may need to start updating old pages with refreshed content.
Featured snippets can play a major role in rankings. For most keywords, you'll find a featured snippet on the first results page. It's important to make sure that you own the snippet that's featured. If it belongs to anyone else, that's traffic that's being moved away from your own site.
8. Site speed
Patience for poor web performance has become significantly thin over the years. A modern website needs to be optimized properly to guarantee a fast page speed for visitors. If your website doesn't perform at the speed that visitors expect, it can cause people to give up entirely on their visit, leading to a significant organic traffic drop. Additionally, this decreases your search engine rankings.
A major source of slow site speeds is bad web hosting. While a cheaper web host may be better for your budget in the short term, the long-term effects are a much slower rate of organic traffic growth, if there is any growth at all. By investing in a fast host, your site can offer the performance necessary to provide a positive user experience for your visitors. If you're not sure where to start, this handy tool can give you an idea of how your site speed plays out.
9. Mobile-first indexing
More and more people use mobile devices to access websites in the modern era, so your site will need to be set up for that. Not only does this type of optimization provide a better user experience for visitors on your site using mobile devices, but Google also ranks results based on how the site performs on mobile. In fact, this is one of the essential ranking factors considered, as it majorly impacts the overall user experience. Of course, user experience is what Google is trying to maximize when it comes to its SERP algorithm.
10. Manual actions and penalties
To provide the best experience possible for its users, Google will actively issue penalties against webpages for actions designed to trick SERP rankings rather than organically offering useful content for people's search queries. Technical SEO is more complicated than it used to be, and Google penalties are more costly than ever.
Some of the actions that can trigger these penalties include cloaking, which is a way of showing Google a different page from what visitors to your site will see if they click the result. Another bad practice is keyword stuffing or hidden text. Google has long since moved past the years of ranking pages based on how many times the keyword shows up in text. If it detects that you are keyword stuffing, your search ranking will actively be penalized. This is true whether you implement the keywords in the text or hide them in text that's the same color as the web page's background.
If your site has suffered a penalty, a manual action will show up in your Google Search Console. Fortunately, this doesn't necessarily mean that you're permanently banned from showing up in Google results. All you have to do is fix the problem. If you're keyword stuffing, simply rewrite the content without so many repetitions of the same keyword. Once the problem is fixed, you can submit a reconsideration request to Google. After review, they can lift the penalty, which will boost your rankings online.
Overwhelmed? Array Digital can help
With so many potential issues plaguing your law firm site's rankings on Google, addressing all of the problems yourself as the website owner can become overwhelming. Even if you make a plan to fix them, putting that plan into action is considerably time-consuming, taking up valuable hours that you could instead be using to boost conversion rates by providing the legal services you do best. Fortunately, Array Digital makes legal digital marketing easy.
When you partner with Array Digital, we'll take care of all the hard work for you. Our multitude of services can help put your site in a better position on SERPs and help boost organic traffic. Our services include:
Free website assessments
Full website and SEO audit that checks site and page performance
Mobile-friendly, customized web design
Continual tracking of the site using metrics to minimize loading times, broken links, and indexing issues
Content optimized for better Google rankings with SEO strategy and keyword research
Ongoing performance meetings with you and our dedicated SEO strategists
Social media marketing
Kick your site traffic into high gear and contact our team at Array Digital to take your website ranking to the next level.