Businesses have been making use of live chat services for quite some time now, but the legal world hasn't quite caught up. In fact, the American Bar Association conducted a study that showed that 80% of law firm sites did not use live chat whatsoever, even though it's standard on so many other sites. Only 3% of law firms surveyed can even say with 100% certainty that they offer live legal chat.
Artificial intelligence is often used to communicate with prospective clients before they get to talk to another human, and that can be frustrating to a lot of people. With live chat, it's easy for website visitors to get human engagement immediately, and that offers a level of service and legal advice that all sorts of clients can appreciate.
Continue reading to learn about the importance of a live chat for your legal site, and discover which ones may work best for you. Unsure if your site is compatible? Looking for a complete redesign? Consult with Array Digital to see how our team can tailor a design to your desires and help boost your digital marketing and conversion rates.
What is live chat?
Live chat is a pop-up service on a website that allows visitors to immediately talk to a real person utilizing a chat window for support. Live chat can resolve issues in real time so that the site visitor does not have to wait for an email back or a similar response. An email can take up to several days to get a reply, while a quality live chat service will leave someone waiting for a few minutes at most.
Live chat can be especially useful for law firms when you consider just how competitive legal services are. When most people have legal needs, they tend to check out several law firms before making a decision. Having live customer support is a great way to stand out and quickly build a rapport with a potential client instead of losing them to a competitor that didn't make them wait as long.
Live chat vs. chatbots: Is there a difference?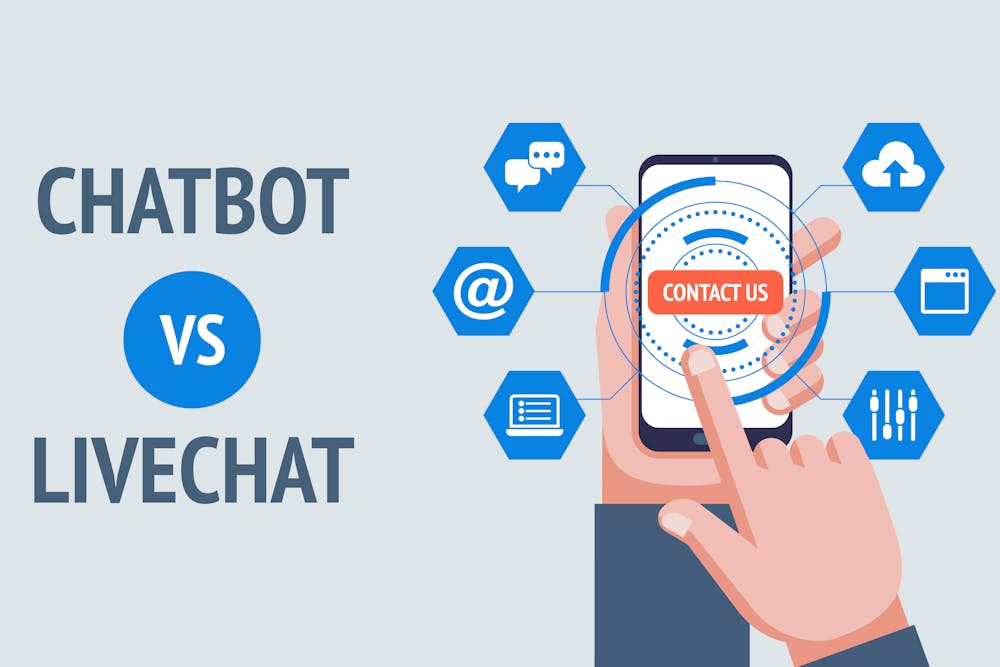 Yes, there is a significant difference between live chat and chatbots. A live chat works by connecting the site visitor with a real human who can respond in real time. Meanwhile, a chatbot is an automated system that can only offer certain predetermined answers. The automated responses can still be helpful in certain situations, but legal services tend to warrant a more personal touch.
When a visitor engages with a chatbot looking for an answer to a complex question, the endeavor can be quite time-consuming. After spending minutes navigating the automated responses and options, visitors may eventually conclude that the chatbot doesn't have the answer they need. Meanwhile, a live chat with an actual person can answer any question directly, saving the site visitor time and increasing the chances of them converting into a client for your law firm.
While the benefits of live chat are clear, chatbots can still serve a valuable purpose. If a person is looking for basic answers to straightforward questions, utilizing a chatbot can be much faster than waiting for someone to be available for a live chat. For example, imagine that someone is looking for office hours or an address for your law firm. A chatbot would be able to provide that information quickly.
Features of a live chat you should consider
Before implementing a live chat into your law office website, you will need to consider exactly what features you want to offer site visitors as well as how it's going to work with your other marketing endeavors. Here are a few of the most important features to keep in mind.
CRM integration
How will the live chat integrate into your CRM system? With the right design, a live chat session can integrate seamlessly into your CRM workflow, allowing clients to be added to contacts and relevant lists that help sort them into categories, making it easier to fulfill their legal needs.
Customization
Many law firms utilize unique branding to stand out. Every aspect of their advertising should sport this branding to establish their identity, and a live chat is no exception. Opt for a system that allows for customization.
Mobile optimization
Much of today's online activity, whether it is looking for law firms or browsing social media, is done on mobile devices. Every aspect of your law firm's site should be optimized for mobile, and that includes the live chat feature.
24/7 availability and support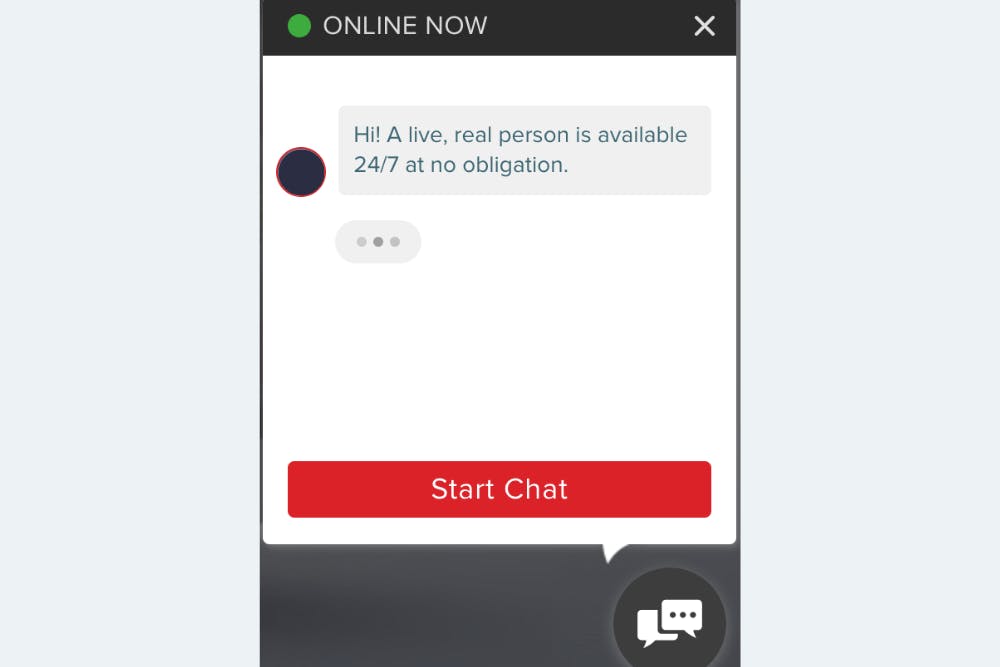 The central benefit of a live chat option is that visitors to your site get personalized answers quickly. Because of this, someone needs to be able to operate the live chat at all times. Law offices will often allow their team to handle live chat systems during the day while an operator or operators handle issues outside of business hours when people can't make a phone call to your office.
If you are unsure how you can implement a live chat system that meets all the necessary considerations, don't hesitate to reach out to Array Digital. Our experienced legal marketing team can help optimize your site's live chat system to keep clients happy.
Types of live chat integrations for legal websites
Quite a few live chat apps are available for integration into your legal website. Keep in mind that the best live chat platform depends on your firm's unique needs. Here are a few of the most popular chat providers.
Ngage
A personal favorite at Array Digital, Ngage live chat allows law firms to offer 24/7 live chat services. Ngage provides the live operators for you. While they serve more than 8,000 companies, their primary focus is the legal industry.
ApexChat
ApexChat is designed to handle all of the work for you when it comes to chat tools. They have their own operators and can get set up easily with your CRM. After the initial setup, the operation is hands-off for your law firm, so you can focus on what you do best while qualified leads pour in.
Client Chat Live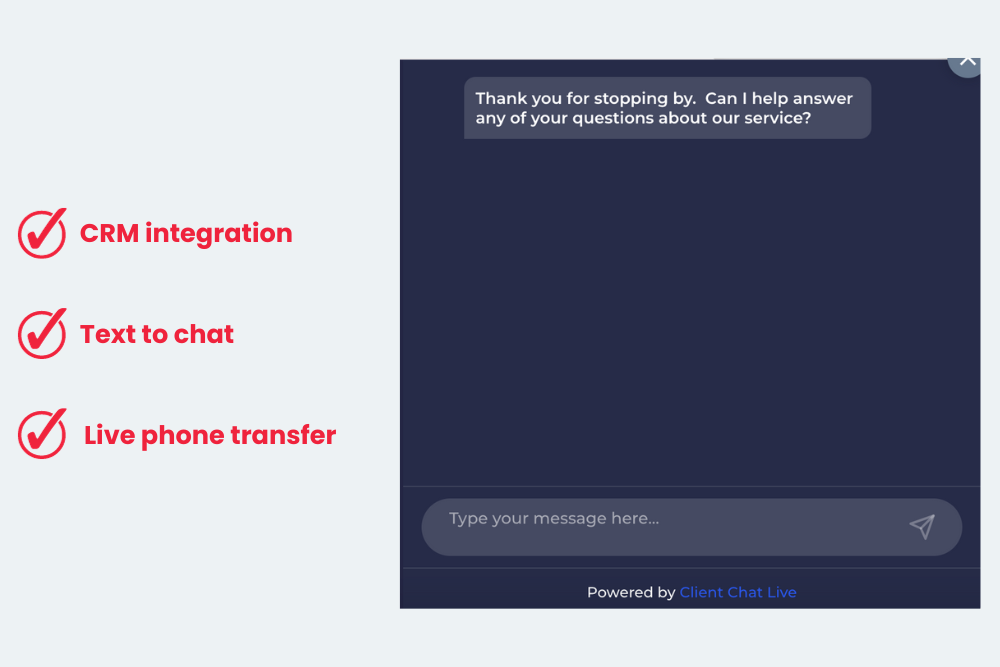 Client Chat Live is a live chat system that was specifically designed for lawyers by lawyers. You can get flat-rate pricing upon request, and they offer text-to-chat, branded chat boxes, customizable responses, monthly reports, and 24/7 live chat agents.
Ruby
Ruby is a live chat system that not only offers online chat specialists 24/7 but also virtual receptionists. This is one of the most sought-after platforms for law firms that want to be known for how quickly they get back to current and potential clients.
Intaker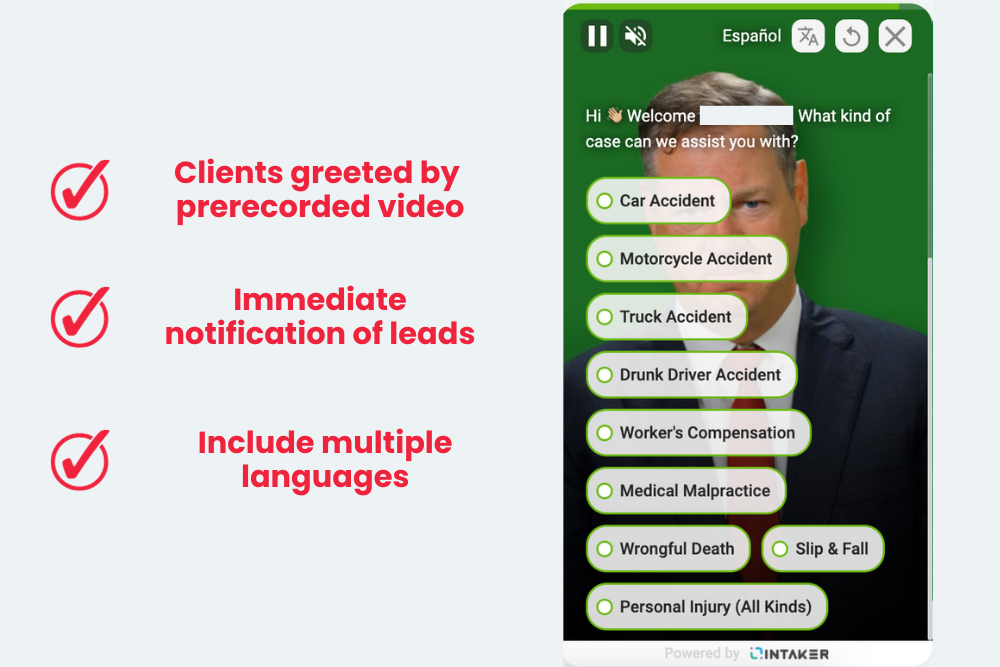 Intaker is unique among legal industry-oriented live chat systems as it focuses on video features. Visitors to your site will be greeted with a prerecorded video of someone at the firm. It can be customizable, and you get immediate notifications for new leads.
LiveChat
LiveChat is a prolific platform used by more than 25,000 companies, many of them law firms. It is especially praised for its more than 200 integrations with programs like HubSpot, Calendly, Slack, Zoom, Mailchimp, and more.
Zendesk Chat
The well-known Zendesk Chat system is used by a variety of industries, and they offer both live chat support and AI chatbots allowing you to take advantage of their features without the drawbacks for an enhanced client experience. The simplicity and automated triggers are particularly useful for law firms.
Benefits of a live chat on your legal website
Quite a few benefits come with utilizing live chat's functionality. Here are some of the most important to keep in mind.
Fast responses
When people use live chat, they can receive quick responses to their questions, even if those questions are complex. Your SEO law firm marketing efforts got the traffic flow to the right place, so live chat is useful in that it can turn that traffic into conversions with new clients.
More data for your metrics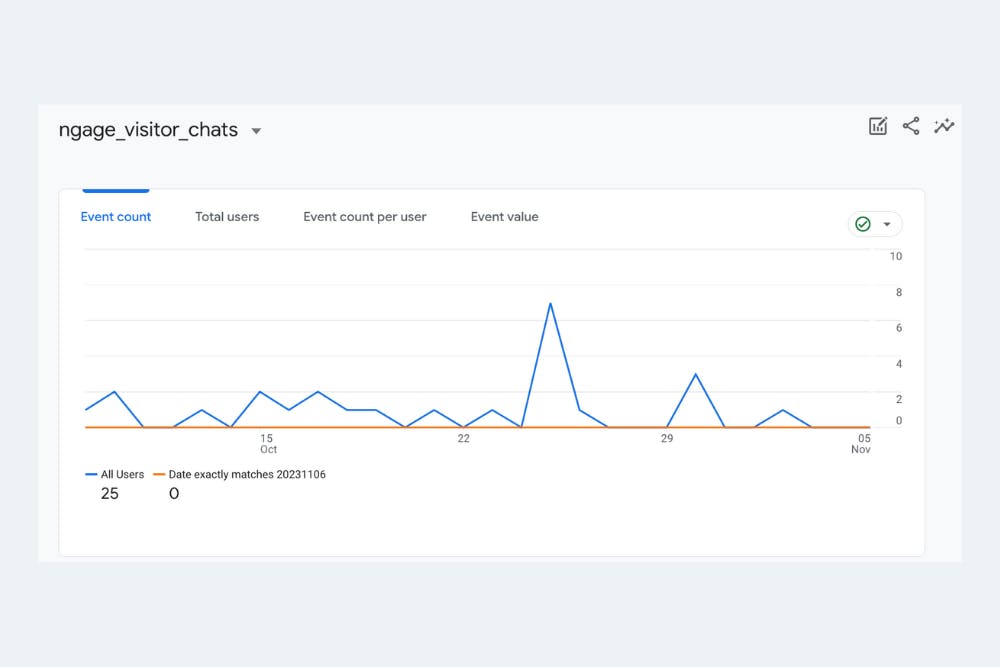 Utilizing live chat offers an opportunity to collect data and contact information for people who are interacting with your website. This data can then be used to adjust marketing efforts and make sure you are specifically catering to those who are most interested in your law firm's services.
Improved accessibility
Live chat can do wonders for your site's overall accessibility. Many people can feel intimidated by all the legal information found on a law firm's website, but a live chat system can answer any questions people may have in real time while making them feel confident in pursuing legal representation.
Issues law firms may face using a live chat on their website
Live chat software has much to offer, but there can still be issues of which to be wary. Keep an eye out for the following common problems to make sure you're getting the most out of your live chat efforts.
Responses with too little detail
Slow response speed
Cost of 24/7 support
Privacy issues
Branding issues
Still, Array Digital's strategists see the value in our clients using live chat daily. If you are unsure about whether such a platform will help your law firm, schedule a free assessment with our team.
Communicate with clients after hours
Your office hours don't have to limit your client interaction. By implementing 24/7 live chat, you can keep your clients engaged no matter when they want to talk. Get in touch with Array Digital today by calling 757-333-3021 or using our contact form to implement a live chat service on your law firm's site to boost your legal marketing.