Does your law firm struggle to generate leads, despite your best efforts? A law firm lives and dies by its ability to bring in new clients, so if you don't know how to create a steady flow of leads, you may be missing out on opportunities to grow and expand your practice.
Learn about lead generation, methods for increasing your lead pool and converting leads to clients, and how a digital marketing agency can help.
What is a lead?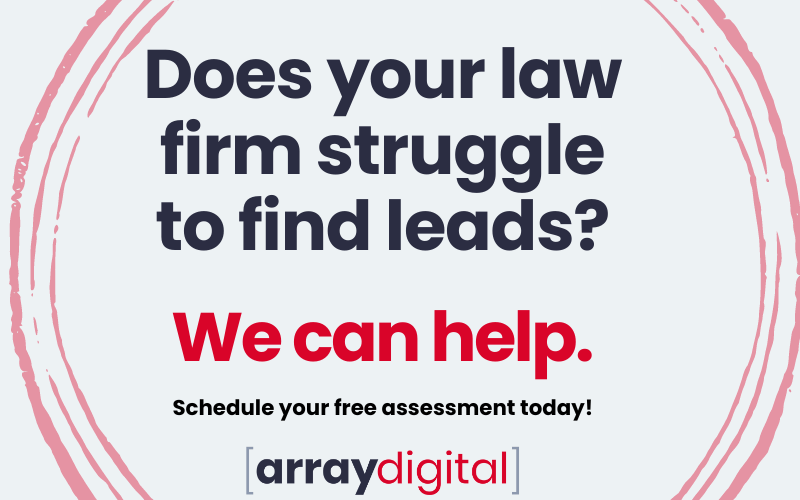 A lead is a prospective client who needs your legal services in some way. Generally, a lead includes the person's name and contact information. Leads tend to be potential new clients, but they could be clients you have previously worked with that need further services. In short, a lead is an opportunity for your law firm to generate revenue.
Leads are people who are interested in paying for the legal services you offer. They are not people who just visit your website to get an answer to a trivia question or have no intention of needing your legal support.
What is attorney lead generation?
Attorney lead generation is the process of getting those leads. Bringing prospective new clients to your law firm requires moving people through a sales funnel. If you imagine what a funnel looks like, the initial opening is quite large, allowing many people to get to your website. However, only a handful of them will make it through the funnel and become leads.
Lead generation incorporates numerous strategies to help pull people into your law firm's website and convince them to contact you. That is a component of digital marketing. Our lead generation services focus on acquiring authentic referrals and high-quality prospective leads that will pay for your services.
How to target your lead generation efforts
To create that sales funnel, you need to understand who your most likely clients are. Generating leads with too narrow a focus could neglect highly valuable potential clients. That's why we start with the widest part of the funnel to capture all available quality leads.
At the same time, we do not want to waste marketing strategies, time, or money on leads that don't pan out. To know the difference, you need to know what type of clients you want to attract.
Gather as much information about your law firm practice as possible to help to formulate your legal generation strategy. Some questions to consider when tailoring your attorney lead generation include the following.
What is your ideal client's demographic and background? Consider your current client base and those you wish to attract that you may not be bringing in yet.

What do they need? What are the goals of that person? Are they looking for help within your sector of the

legal industry

?

What are their challenges? A simple

Google search

can answer many questions for a

potential client

, but most need help. They may need to know the law around their case or the information to encourage them to take legal action in the first place.

Do you have different ideal clients for different

practice areas

? For example, if you are a

personal injury

law firm

, your ideal workers' compensation client may differ from your ideal medical malpractice client. If you also provide criminal defense services, your client needs are likely vastly different in that

practice area

.

How do they communicate? Some clients are more likely to call, while others looking for help might answer a

call to action

(

CTA

) on your

law firm website

. Other times, they may be searching

LinkedIn

for a seasoned attorney. You want to be able to capture clients through several methods of communication.
The more information you have in these areas, the more effective you will be at generating leads. Take the time to really focus on these aspects first. Then, begin working to build your lead generation strategy.
What is the sales funnel for legal leads?
As mentioned, we design our online marketing efforts to create a funnel that brings people into your site. As they interact with your Google ads, social media ads, website, and so on, the goal is to get them to move through this funnel with the ultimate goal of having them call you to set up an appointment or fill out your contact form.
Most people do not contact a law firm the first time they Google a legal problem they are having. Often, people think, research, and navigate their lives before returning to contact a law firm. That's why we create numerous touchpoints to bring them to your site to take action.
We design our strategy and content to capture potential legal leads at every stage of the sales funnel.
Awareness
In this initial phase, a person is just becoming aware of your legal practice and what services you offer. To get them into this part of the process, we use various search engine optimization (SEO) tools and strategies so that when they search for legal services or information in your location and practice area, they find you either through organic search results or from a paid advertisement.
Evaluation
In this next stage, they are moving closer to making a decision to take action. They know of your law firm, but now you must capture their interest and help people to recognize that you can help them. This is where your landing pages come into play. They need the right information and CTA opportunities to get people to see what you can offer them.
Conversion
At this point, they are making a decision. They see what you have to offer, and they are determining where to bring their business. Our work is not yet complete at this point in the sales funnel. We still need to get them to choose you. When they do that, they take action and become paying clients. Clients at this stage of the sales funnel tend to evaluate law firms against one another using criteria like past client reviews, which is why encouraging satisfied clients to leave reviews for your business is critical.
Advocacy
The final component of this process is not just getting the lead but maintaining it. The goal is to build a relationship with the client and encourage them to submit an online review and provide word-of-mouth recommendations about your firm. You want your legal clients to recommend you to others needing legal services.
How to generate legal leads
Legal lead generation isn't an automatic process. To get new leads, you need more than just a website. You can employ various strategies to bring people in so they can connect with and work with you. Here are some strategies that we use to build that success.
Build a quality law firm website
People make decisions on your law firm website. If your site is not providing them with the information they need or is hard to navigate, that will cut your conversion rate (the number of people visiting your site compared to the number of people hiring you).
Some factors contributing to a high-quality law firm website include:
A polished, consistent design and look. You want to have a clear brand representative of your organization.

Fast-loading pages. Any delay in site loading will encourage people to look elsewhere.

Mobile-adaptive design. Many people looking for

legal services

do so on their smartphones. You want them to be able to find you and easily navigate your site.

Easy to navigate. Your site should have a clear layout and include links built in to make moving through it efficient and simple.

Relevant, informative content. This helps

new leads

see what you offer and convinces them that you are knowledgeable.

Prominent

CTAs

. These provide concrete steps for a person to get the help you can offer them, such as calling, live chat, or using an online contact form to schedule an appointment or

free consultation

.
Examine your website. Compare it to your competitors. Is it delivering the experience you want your prospective clients to have?
Ask yourself, "What makes my law firm different from the rest?". Your website should answer that question for potential clients. Do you have badges or additional credentials? Showcase them on your site. That may include:
Martindale-

Avvo

U.S. News Best Lawyers

Super Lawyers
What else can you add to your site that will encourage people to take action?
Create landing pages
A landing page is a significant part of your legal marketing strategy. This is the page people land on when they click a link on your pay-per-click (PPC) ad or when they find you through organic search results. Landing pages establish trust and get visitors to take action through prominent CTAs and highly focused copy. They are separate from your home page.
The copy on your landing page must encourage action without being too sales-forward. It should include the following:
Specific, encouraging statements

Visuals, including photos and

infographics

Insight and personalized messages for people based on what type of help they need
You can have more than one landing page. You may even develop several for various target audience needs or specific PPC advertising goals. The more well-developed your landing pages, the more likely you are to convert users to leads.
Create a strong marketing strategy with SEO
Having a strong search engine optimization strategy for your website will help you to target people who are most likely to need and hire the legal services you offer. That way, when they search for information that you can offer, your firm shows up in the search engine results pages (SERPs).
Law firm SEO can create a variety of key benefits:
Increases your brand awareness

Aids in ranking in the search engines

Supports your

marketing strategies

and methods

Provides long-term,

cost-effective

marketing that continues to pay off

Delivers highly

qualified leads

to your site
However, search engine optimization is not simple. It requires ample research and careful planning to attract your desired target audience. If you do not put the time into mastering SEO for your law firm, it will cost you leads.
Content Marketing
When developing a sales funnel, one area that will help at every stage is content marketing. Content marketing strengthens SEO by helping your site rank for keywords your potential clients are searching for online. It also helps to build strong relationships with visitors by providing useful information.
Content marketing is the use of various types of content — like blogs, social media marketing content, and videos — to provide information to people based on what they are searching for online.
PPC and marketing
Another component of your efforts is to use pay-per-click (PPC) ads. This type of ad marketing drives traffic to your website from relevant keyword searches. PPC ads charge a fee whenever someone clicks on that specific ad. They can be expensive in some situations, particularly in competitive practice areas like personal injury or in larger cities like Chicago or Miami. However, they are a good starting point for many law firms while they wait for their SEO efforts to start producing leads. Pay-per-lead is also a valuable and common component of most marketing strategies. Services like Avvo and Nolo accumulate leads through CTAs on their legal directories, which they sell to local law firms who can assist those clients. However, not all of these pay-per-lead packages are exclusive, meaning you may be directly competing with other law firms who also acquired those leads. 
Social media marketing
Another key component of a legal marketing campaign is the use of social media. Social media content needs to be interesting, informative, and concise. That is, you should create content that people will interact with for websites like Facebook and LinkedIn. Often, the content you post on social media can be cross-posted across multiple platforms.
Email marketing
During your marketing efforts, you will collect the email addresses of potential clients. You can design newsletters and email campaigns to reach this pool of potential clients. For example, suppose you are a family law attorney, and you plan to do a webinar about divorce proceedings or changes in asset division. In that case, you can create an email encouraging people to attend the webinar. You can also email updates about your practice to increase brand awareness and familiarity with potential clients so that when they need legal services, they think of your firm first.
Encourage reviews and referrals for word-of-mouth leads
It's always a good idea to encourage your existing clients to refer you to their friends and family. There are many ways to do this, including the use of testimonials you place on your website or simply asking them. You can also encourage clients to leave reviews on your Google Business Profile that prospective clients can use to evaluate your firm when they are searching online.
Paid lead generation services
There are several options that could help you here. Though pricing can be a factor in some situations, you may wish to use sites like the following directories to help you get people to call your website.
Offer free consultations
When it fits with the way you operate your business, offering free consultations can also help to draw people into that sales funnel and become leads. This is common, for example, in personal injury law firms. Many times, providing free resources like this can help to maximize the opportunity for lead capture. People want information and support without committing — yet.
Network
Attorneys also need to network. There are many ways to do this. For example, you can create webinars and podcasts that help people to learn about your firm and practice area and gather insight into what you can offer to them. At the same time, they are building an opinion of your firm.
Engage with the community. That may mean sponsoring local events, attending legal industry events, and working with city government organizations. Join professional organizations to foster your presence further. Your brand awareness increases the more you involve yourself in your community. You can also use these opportunities to gain backlinks to your site that boost your site's authority and rankings.
How to follow up with leads
When people begin to come to your website, you need to be proactive in getting the most out of that visit. A good starting point is improving the way you respond to those leads. Always be timely. Do not let a lead sit for a day without contacting them.
Be willing to connect with people in a way that works for them. That may be calling them, emailing, or even sending a text message.
Tips for converting leads into clients
Now that you have leads coming in, how do you turn them into paying clients? You can engage in multiple tactics to get these visitors to become leads.
Communicate with them. Explain your fee structure (they shouldn't have to jump through hoops to determine what your services will cost them). Provide a clear avenue for asking questions. Let them know what the process is to resolve their problem.
Connect with your leads individually. Make sure they feel you are invested in them personally and ready and willing to help them.
Are paid lead services worth it for lawyer lead generation?
Paid lead generation services can be useful when you use them along with other techniques. They are not a cost-effective replacement for SEO and good content marketing.
There are several benefits to using paid lead services.
They provide immediate visibility to

potential clients

.

They can be highly targeted.

You end up at the top of the search results.

The results are easy to measure.
There are a few drawbacks to using them as well.
Leads stop the minute you stop paying.

They can be costly in a competitive market.

They require effective design, including a

landing page

with monitoring to ensure you are getting actual clients from these leads.

You will be competing budget-for-budget with your competition, which can be especially difficult for small

law firms

.

You pay even if the click or lead does not result in a client.
The best lead generation tools for lawyers
Here are a few lead generation tools to take a closer look at for your business.
HubSpot CRM
HubSpot CRM is one of the most effective customer relationship management tools available today. It can help you to provide customer support, marketing, and email tracking in a streamlined manner.
Legal directories
Directories include Avvo, Justia, FindLaw, and others. They allow you to place your name into the directory, and when people search for what you have to offer, your information will become available.
LeadPages
Leadpages is an effective landing page platform tool that can help you to connect with your audience.
UpLead
UpLead is another tool that can help you to build leads. It creates lists that you can put into your customer relationship management (CRM) software to get leads. UpLead enables you to build custom contact lists and generate pre-qualified leads.
MailChimp
MailChimp is a very effective and commonly used email marketing tool. It can help you design emails, build newsletters, and devise strategies for drawing in customers.
Google Ads
Google Ads are a common way of getting leads as a lawyer. Though you are paying for every click, even if they do not become a lead, they are often very targeted ads on the search engine results pages (SERPs) that appear before organic results.
LinkedIn
Though a social media platform, LinkedIn creates an opportunity for many people to build a solid reputation and source leads. You can pay for ad placement on LinkedIn as well.
How can a digital marketing agency help increase my lead generation?
A digital marketing agency is a group of professionals who understand lead conversion. These professionals manage your SEO, social media, and PPC campaigns, ensuring you get the most out of them every time. They can also handle some of the most time-consuming tasks for your business, including:
Researching your competition

Developing your keyword targets and strategies

Building a beautiful and professional website

Providing solid branding support for that website

Adjusting your campaigns over time based on how well your key performance indicators adjust to your efforts

Handling content writing to reduce your workload
In short, these organizations empower you to get more leads that are more likely to become clients, allowing you to focus on your business.
How to measure the success of your lead generation campaigns
There are several ways to measure just how successful any legal generation campaign is, including:
Number of leads generated:

How many people click on the link or become a lead by filling out a form on your website?

Lead quality:

What happens to that lead? Do they need the type of service that you offer?

Conversion rate:

Just because a lead lands on your page does not mean they become a

paying client

. Measure the

conversion rate

— the number of leads who become clients — to learn how effective campaigns are.

Cost per lead:

That's the actual cost you pay for that lead. We want the cost to result in positive growth for your firm and keep the overall investment as low as possible.

Return on investment:

How valuable is each lead? How much revenue does a

new client

bring, and what is the average cost to find those clients?
It's time to take the lead
Array Digital can help you to become a leader in your field. Successful lead generation can shape your law firm and help you to expand your practice. We can help you along the way.
Learn how we can help you increase leads by scheduling a free assessment today.